The Magic KEYBOARD & AIRPODS CLEANER
THE COMPLETE GROOM KIT FOR YOUR ACCESSORIES!
Nobody likes using a faulty keyboard, let alone some dirty earphones. If you're one that's keen on cleanliness while wanting to keep things simple, then we've got quite the solution for you! Our New 5-in-1 Keyboard and AirPods Cleaner offers an all-in-one solution to help keep your peripheral devices in tip-top fashion. Enjoy improved productivity, better workflow, and a hygienic environment with ease!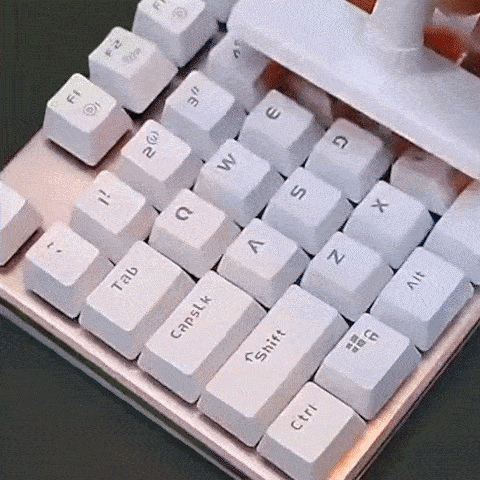 THE POWER OF 5 IN THE SIZE OF 1
You don't need to carry around multiple cleaning kits just for a single keyboard and a pair of earphones. Just pack our Newest Arrival into your bag and you're ready to go!
It includes Nylon Bristles, Flocking Sponge, High-Density Brush, Metal Pen Tip, and Keycap Puller for an all-around cleaning experience. Everything for the price of one!
CARE FOR YOUR DEVICE AS IT CARES FOR YOU
Your workstation reflects your workflow. As the world transitions to the digital age of society, it's important to give your gadget accessories the proper care it deserves.
We designed it to provide a gentle touch, sweeping up all the dust without harming your device. Make your accessories look as good as new, forever!
REACH EVERY NOOK AND CRANNY
Be sure to never miss a spot with the refined combination of the Flocking Sponge and High-Density Brush, optimized for clearing outlet holes and charging cases.
Say goodbye to stubborn grimes, dust, and dirt hiding underneath the deepest crevices of your device accessories. The Metal Pen Tip will surely do the trick!
TAKE THE CHORE OF CLEANING
Make cleaning on the go that much of a breeze. Our Key Puller is complete with embedded ergonomic handles for a comfortable grip during prolonged usage.
Pulling out keys from your mechanical keyboard can be a pain for some. Thankfully, the integrated Key Puller can help you safely remove keycaps with no worries!
PREMIUM QUALITY BUILT FOR THE SAVVY
Impress the keenest enthusiasts with a cleaning kit that does it all. The Magic Brush is a unique gift your most meticulous peers will definitely appreciate!
Made using high-grade, durable ABS material capable of withstanding everyday wear and tear. The perfect blend of simple functionality and modern convenience!
SPECIFICATIONS
Material: ABS+nylon
Size: 150×80×28mm